When Irving Berlin wrote "There's No Business Like Show Business" I wonder if he ever thought of having to shovel a parking space out of a snow bank before trudging into the theater for dress rehearsal.
I thought of Irving's love song to show biz several times this past February 13th – the day of a major northeast blizzard and tech day for "They Called It Rock," a show we're part of, which performed the following night at the Tarrytown Music Hall. It was one of those if-you-don't-laugh-you'll-cry days. So, humming this old chestnut was more than appropriate. And our intrepid cast and crew exemplified it to a T.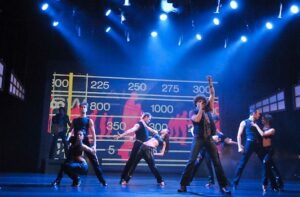 With load-in, tech, dress rehearsal, and show squeezed into a few snowy days, this was not theater for sissies. But at least one of our worries, that the cast would arrive safely from various points south, dissolved with reports of Facebook video postings. Turns out that our spirited troupe was unfazed in transit and were entertaining Metro-North riders with an impromptu preview – sharing it all online, of course.
At showtime the next day, they let loose with a full-throttle performance raising everyone's thermometer on that cold Valentine's night. Despite the blizzard aftermath, they played to a sizable audience who couldn't help but respond to the electricity zapping off the stage. But that was just the warm-up.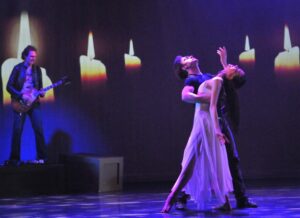 A few days later they boarded a bus for two bookings in central Iowa heading directly into blizzard #2. An even more enthusiastic reception delivered everyone to their bus exhausted and exhilarated for the trip home. But, oh yeah, one more thing. Between the Iowa shows, a few of the cast members were hit with a stomach virus.  They got through it and went on. So, yes, really exhausted for the trip home.
OK, short breather and … onward! We continue to work with the immensely talented and dedicated team, creators Charles Yurick and Nancy Paris, and producer Mark Rubinsky, to further develop "They Called It Rock" creatively and propel it to it's next phase of production. "Let's go – on – with – the – show!" (Big finish.)
Watch the trailer. Read about the origin of "They Called It Rock" and its creators.
Triple Z Music co-owners Paul Guzzone and Mary Ellen Bernard are on the creative team of "They Called It Rock" as Music Director and Creative Consultant, respectively.