Sought-after creative team
Co-owner Paul Guzzone has a musical range that extends from pop and rock to theater and orchestral. He is widely respected by events producers and fellow artists for his versatility and fresh approach.
Co-owner Mary Ellen Bernard has developed client-friendly music budgets and talent proposals, and she has contributed to project development with lyrics, script ideas, and other creative input.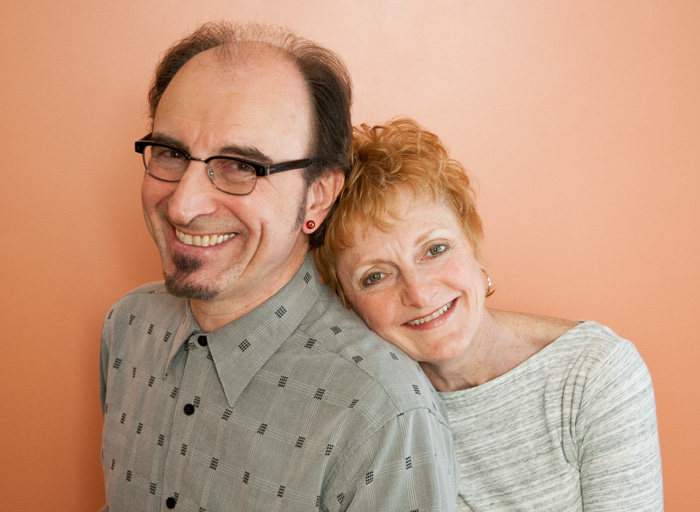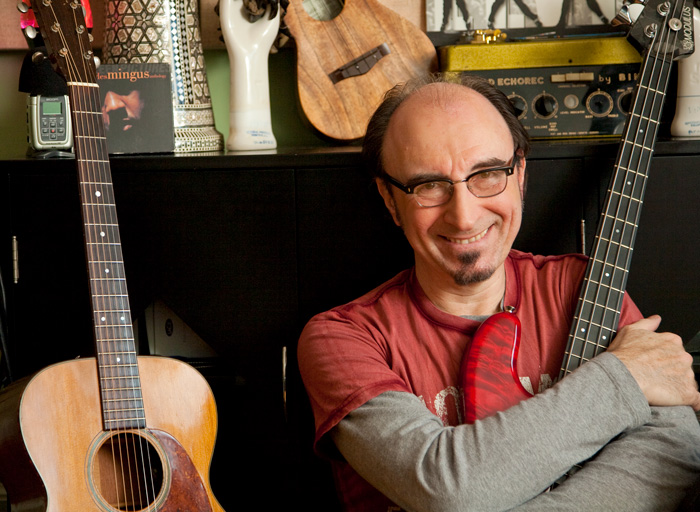 With a background that encompasses rock, pop, and theater as well as studio production and live performance, Paul brings both experience and a fresh, contemporary approach to every project. His versatility enables him to create everything from award-winning sound designs to large-scale spectacles inspired by exotic locales.
Read Full Bio
With a background that encompasses rock, pop, and theater as well as studio production and live performance, Paul brings both experience and a fresh, contemporary approach to every project. His versatility enables him to create everything from award-winning sound designs to large-scale spectacles inspired by exotic locales.
Award Winner
Paul has been honored with three Telly Awards, most recently for arranging and producing Woody Guthrie's "This Land Is Your Land" for a virtual event that featured musicians from around the country. His music has driven national ad campaigns for Jaguar, Trident, Folgers, Milton Bradley, and other major brands. He is highly respected in the events business, having created original songs and custom musical segments for Cadillac, Xerox, Toyota, IBM, Deloitte, and Canon, to name just a few.
Performer
Paul is creatively active outside of the corporate world as well. He is bass player-vocalist in The Bacon Brothers band, featuring actor Kevin Bacon and composer Michael Bacon. He has performed with them around the world and on numerous broadcasts, including multiple appearances on "The Tonight Show," "The Late, Late Show with Craig Ferguson," and "The View" as well as on NPR, Sirius/XM, The BBC, and Radio Berlin. Paul co-produced their albums New Year's Day, Can't Complain, and The Bacon Brothers Live, and he has co-written songs with them, including their single "493 Miles."
Concert Curator
Paul has curated two major musical programs at Schimmel Center for the Performing Arts at Pace University. An event that gained national attention was If These Walls Could Talk: Remembering the Life and Times of the Bottom Line, a two-night celebration of the legendary New York City music club.
"For two nights of music and memories, the performances reunited many musicians for whom the Bottom Line was the place to play in New York – David Bromberg, Nona Hendryx, Garland Jeffreys, Christine Lavin, Darlene Love, Terre Roche, Willie Nile, Sean Altman and more – backed by a crack house band led by Paul Shaffer."
– Billboard Magazine
He also developed (with the center's former executive director Dr. Martin Kagan) and hosted the Crossing Bridges Music Festival. This two-day event featured an eclectic group of eight artists including headliners Dom Flemons, Paula Cole, and Jonathan Coulton.
Songwriter & Recording Artist
Paul also writes and records his own work, which includes his 2015 song-a-month digital release project, The 3-in-1 Collection, and his 2013 CD, Chasing the Moon, praised for its "sonic textures, wry narratives, catchy hooks and songs that draw you in." (Get Ready to Rock, UK)
His 2012 single Light@the EOL (Light at the End of the Line), a commentary on dysfunctional politics, resonated with listeners during the 2012 U.S. election season and beyond, and the online video continues to attract fans around the world.
In the 1980's, Paul performed extensively in New York clubs and produced and released his album Dancin' Room to critical raves and airplay on major East Coast rock stations. Visit Paul's artist page.
Paul's songs and song collaborations have been recorded by other artists as well, including folk-blues singer-songwriter Ruthie Foster, pop singer Shara Strand, classical cross-over tenor Micheal Castaldo, and British dance-pop star Sam Stevens.
Producer
Some of Paul's most gratifying studio production work includes: recording Meryl Streep, Kevin Kline and other major stars for the New York Times bestselling book and CD Philadelphia Chickens by author-illustrator Sandra Boynton; two albums by the acclaimed acoustic duo Aztec Two-Step; and numerous independent releases.
Other concert credits include tours with Tom Rush (including his holiday shows at Boston's Symphony Hall), Tom Chapin, Buskin and Batteau, and Paul's 70's folk-rock band Revival (Buddah/Kama-Sutra Records).
Educator
As Senior Adjunct Assistant Professor at the Sands College of Performing Arts at Pace University in New York City, Paul teaches a course on the history of rock music, and for 20 years he taught about the music and media industries in a course on the entertainment business.
Separately, with classical cellist Stephanie Winters, he designed Bach to the Future, an interactive workshop exploring the surprising connections between classical music and current culture. The presentation was part of Lincoln Center's "Meet the Artist School Series."
Paul also designed and taught The Recording Adventure Workshop, which provided teenagers with a hands-on introduction to the creative and technical aspects of sound and music recording. The program was featured on WNBC News and in Time Out New York Kids.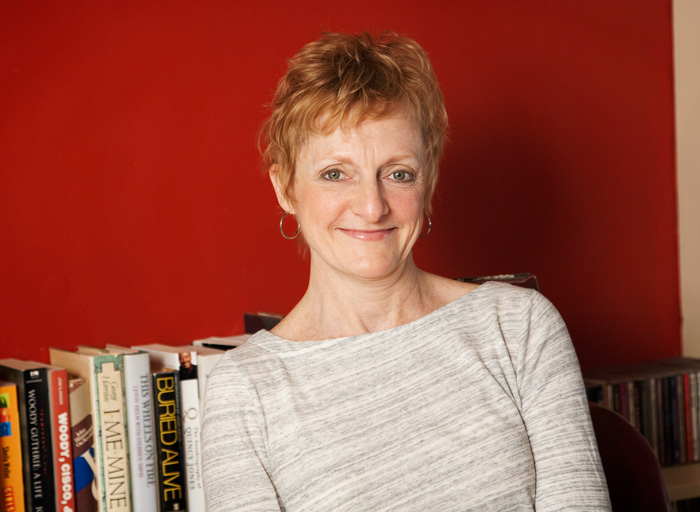 While primarily a writer and performer, Mary Ellen has worked onstage, backstage, and in the planning stage, accumulating experience as both an artist and an administrator.
Read Full Bio
Manager & Creative Contributor
At Triple Z Music, Mary Ellen manages day-to-day operations, develops proposal budgets, and often contributes to projects as a member of the creative or production team. For instance, she managed pre-production and on-site costuming and wardrobe for the IBM Global Golden Circle Awards in Dubai and Hawaii (with more than 100 cast members) and for the award-winning Hisense exhibit presentation at the Consumer Electronics Show.
Writer
Mary Ellen has penned song lyrics, stand-up comedy, proposals, articles, informational resources, and marketing collaterals of all types. She has shaped promotional messages for major book publishers, non-profit organizations, small businesses, and performing artists.
She began a career in publishing as an assistant at Billie Jean King's womenSports magazine, and in six years she advanced to Vice President/Creative Director at a promotion and advertising agency that specialized in book publishing. In between, she was promotional copywriter at Doubleday, then Copy Chief at Simon & Schuster. Her writing portfolio included high-visibility titles by bestselling authors, and she served some of the most highly respected editors in the business, including Michael Korda and Nan Talese.
Actor & Entertainer
All the while, Mary Ellen was following her bliss in theater and other performance. Right out of college, she became a founding member of a small non-profit theater company and served as its executive director for five years. Eventually, she left publishing to concentrate more fully on performance and writing, studying stand-up comedy and improv, writing and performing in cabaret, and recording her own CDs.
Recording & Concert Performer
Mary Ellen landed in the acoustic music circuit with a hybrid show of original acoustic pop, quirky covers, and humor. There she appeared as a featured act or as an opener for such artists as John Prine, Loudon Wainwright III, Richie Havens, Tom Paxton, and John Sebastian. Her three CD's (Point of Departure, Coney Island Mojo, and Bus Stop) have received reviewer praise and airplay around the country and in Europe.
"If she were a chef, her spice cabinet would need restocking daily. Bernard seasons her material to taste, and cooks with a high flame," wrote Mark Keating in the regional music magazine Sound View.
Lyricist & Librettist
Mary Ellen has recently completed the book and lyrics for The Mountains Are Burning, a full-length musical with music by Paul Guzzone. The show is inspired by historical events at the turn of the 20th century, namely the labor activism among coal miners and their families in Mary Ellen's native Northeastern Pennsylvania and the influence of the feisty union organizer Mother Jones.
Mary Ellen has written numerous songs with Paul, and they have performed together for decades.
Educator
Mary Ellen was an adjunct professor for 20 years in the Sands College of Performing Arts at Pace University in New York City, teaching about the business of theatre and film in the course How the Entertainment Industry Works.