One of the great privileges of being in this business is the opportunity to know and work with an array of immensely talented singers and musicians. A shining star among that group is the highly-regarded Vaneese Thomas. Vaneese has brought her voice and her soul to countless pieces of special material for us and other music producers. She has enlivened countless events with her elegance, her warmth, and her powerful onstage presence.
As a member of a musical royal family, Vaneese has carried the rich heritage of Memphis through her career as solo artist, major backing vocalist and blues, soul and R&B preservationist. Her current, and perhaps most important, project is the campaign to have her father, Rufus Thomas, inducted into the Rock & Roll Hall of Fame.
Those who know of Rufus Thomas – and if you don't, you should – know him for his hits "Walkin' The Dog" (#10 on Billboard Hot 100, 1963), "Do The Funky Chicken" (#28 on Billboard Hot 100, 1970), and "Push And Pull Part I" (#1 on Billboard R&B Hit, 1971).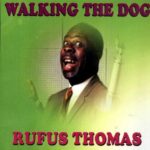 Responsible for inciting some of our most beloved dance crazes, Rufus became known as "The World's Oldest Teenager," "The Funkiest Man Alive" and "The Bear Cat." But these facts alone may give the impression that the man was simply a highly successful novelty act. In fact, however, they amount to just a footnote in the face of his more profound accomplishments as a seminal force in the development of rock 'n' roll and the recognition of African American influence on our culture.
It was 1936 when the young Rufus Thomas began his entertainment career in Black vaudeville as a tap dancer in the Rabbit Foot Minstrals. He worked alongside comics, singers, vocal groups, jugglers, musicians, and storytellers learning that, as variety was the spice of life, so show business could be a big tent. "He'd assimilated the whole history of Black entertainment in the South into his act." (1)
Thomas went on to host the Amateur Show at The Palace Theater in Memphis for eleven years. He then took on his most crucial role as an on-air host at WDIA, the first and only radio station in the south with a full roster of Black deejays. At a time when independent radio was at its most influential, Thomas became a prominent voice at the "mother station of the Negroes," as it was known throughout the South.
Having grown up listening to the Grand Ol' Opry on Saturday and gospel music on Sunday, as well as field hollers, delta blues, hillbilly and pop, Thomas had an open mind and heart when it came to music. Taking plenty of heat for it, he insisted on playing records by the young Elvis Presley, who was co-opting Black rhythm and blues and turning it into something else altogether. Greil Marcus, in his acclaimed book Mystery Train, cites Thomas as a huge influence on Presley who even re-created from memory a performance of Thomas's 1953 Sun hit "Tiger Man" on his legendary 1968 The Elvis TV Special. (2)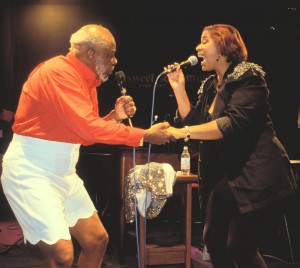 The list of lives and careers Rufus Thomas affected is a veritable who's who of soul and rock 'n' roll. Besides Elvis, they include Sam Phillips, The Staple Singers, Nat D. Williams, Johnny Ace, B.B. King, Bobby Bland, Charles Lloyd, Willie Mitchell, Booker T. and The MG's, Jerry Wexler, Jim Stewart, Isaac Hayes and, of course, his own children Carla, Marvell and Vaneese Thomas. His influence has been seen and heard in the joyous performing styles of everyone from Elvis to The Beatles, from Sly Stone to George Clinton, from Outkast to The Roots.
Thomas was at the center of this network of singers, musicians, songwriters, and record company owners. By introducing one to another, promoting and advising, prodding and producing, he helped make connections that would have immense impact on American music. This includes being instrumental in the launch of two of the most important record companies in the history of rock and soul, Sun and Stax Records.
Peter Guralnick devotes an entire chapter to Rufus in his book Lost Highway pointing out that: "B.B. King, Johnny Ace and Bobby Blue Bland are among the great Memphis singers whom he helped to start out in the business." (3) Thomas's importance in the birth, growth and even the resurrection of Stax Records is well documented in Robert Gordon's book Respect Yourself. (4) And, as many writers have pointed out, Thomas put Sun Records on the national map with his recording of "Bear Cat" in 1953.
In his path from Vaudeville entertainer to disk jockey, musical innovator and recording artist, Rufus Thomas bridged the cultural gap between Louis Armstrong and rock 'n' roll. His career embodied the history and scope of this classic American genre and he is cited by highly regarded experts as a critical link in its development. Yes, and he also had hit records.
What a shame it would be if his contributions remain unrecognized by the beneficiaries of his musical largesse. Join the effort to put Rufus Thomas in the Rock & Roll Hall of Fame.
SIGN THE PETITION! 
Ed Ward, Geoffrey Stokes and Ken Tucker, Rock of Ages: The Rolling Stone History Of Rock And Roll (Summit Books,1986), 75.
Greil Marcus, Mystery Train: Images of America in Rock 'n' Roll Music (Plume, 2008), 139, 269.
Peter Guralnick, Lost Highway: Journeys and Arrivals of American Musicians (Back Bay Books, 1999), 57.
Robert Gordon, Respect Yourself: Stax Records and the Soul Explosion (Bloomsbury USA, 2013), 30, 85, 282-83.